Warm sunny days and balmy nights are meant to be spent outside, under the stars, on your private outdoor courtyard or patio. At Cornerstone Homes, we make sure our new homes provide you seamless living from the outdoors in. From covered patios and porches to private courtyards, your outdoor oasis is waiting for you.
These spaces were once just areas to put a table and chair set and maybe a grill. But those days are gone. Today, you can include comfy furniture, small kitchens, dining areas, fire pits, artwork and mirrors and even TV's! Make the most of your outdoor living space this spring and summer with some of these fresh and easy ideas! Not only will you never want to leave, but you'll enjoy the view from your indoor space too. Then Invite your neighbors to enjoy a cocktail with you on your new outdoor room.
Bright Summer Palette
Outdoor spaces call for bold color, with fabrics and flowers. From fruity hues like lemon yellow, tangerine, lime green or berry pink, to watery shades of blue and green, you can layer different patterns in similar colors for a vibrant summer look.
Candles
When it comes to entertaining after dark, ambient lighting is a must for any get-together. Candles in multiple sizes and summery scents (tropical or citrusy) set the mood! (Knock out two birds with one stone and stock up on scented Citronella candles to keep mosquitos at bay!)
Outdoor Flowers and Plants
The more the merrier. Adding green plants and flowers will make you feel even closer to nature.  Check out our recent blog on container gardening!
Comfy Accessories
Make your outdoor space more inviting with indoor accessories! Give favorite throw pillows, cushions, and blankets a summer job. Put that bar cart to use in new ways – courtyard margarita bar anyone?
Television
With today's technology and flat screen TV's, it's so easy to hang a TV anywhere. There's nothing like watching a golf match while sitting outside.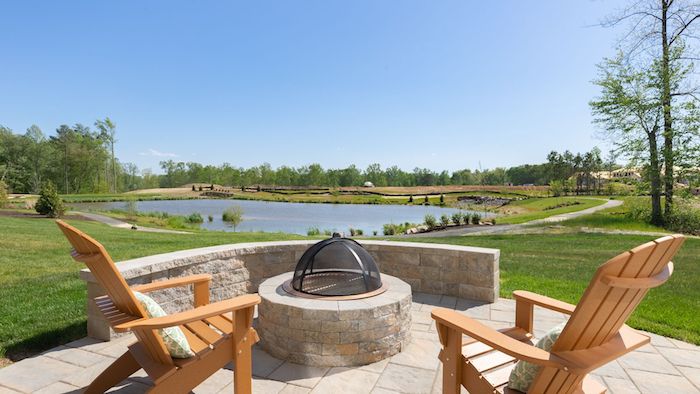 Outdoor Fire Pits
So many options here and it's perfect for the cooler nights when the heat of the day dissipates. Get the smores ready!
Outdoor Lights
Make your holiday lights work all year long! From classic bistro lights to whimsical shapes and colors to solar-powered strings, there are plenty of ways to light up your outdoor space!
Outdoor Rugs
Nothing defines a space like a decorative rug – or feels so good underfoot. All you have to do is pick the right size, material, and style for your space. Bold shapes? Traditional Persian? Trendy weave? Plus, outdoor rugs are so easy to clean with the hose.
There are endless options to customize your outdoor living space when you build a new home in Virginia with Cornerstone Homes. For more information on our new homes and active adult communities in Virginia, contact us to start your healthier, happier, and low-maintenance living journey today!