Moving to a new community and making a lifestyle change is an exciting endeavor, especially for someone right-sizing into their forever home. A whole new world of possibilities opens up with new neighbors, new fun social events, new resort-style amenities, and things to do around town.
The great news is Cornerstone communities are absolutely the friendliest and most welcoming! Cornerstone homeowners form close relationships and take care of one another, and one thing is for sure, they know how to have fun, both inside and outside of the community. We recently interviewed Evans at Chickahominy Falls to learn more about how she welcomes new neighbors and what she loves most about her new community.
Because Cornerstone communities are so popular, new neighbors are always moving in so we want to be sure to meet and welcome them, and make them feel special. Living among your peers does make it easy to become fast friends. However, every neighbor is different, so if you're unsure of the best way to say "Welcome!" you're sure to find it in this list of 10 ways to welcome new neighbors!
1) Introduce Yourself
While you don't have to run over as soon as the moving truck pulls up, it's nice to go out of your way to say hello sometime within the first week of your neighbor moving in. Even if it's as simple as saying "Hi, welcome, knock if you need anything!" it will communicate that this community is full of friendly people ready to help out.
2) Say Hello from a Distance
While the pandemic has started to settle down in many regions, you never know someone's degree of comfort with close interactions. Keep in mind that there are people with health issues like auto-immune disorders or those who were not able to be vaccinated. Respect their personal space by resisting the urge to shake hands, maintaining six feet of distance, or considering wearing a face covering.
3) Bring Sweets
A cake or cookies is always a kind gesture to welcome someone to the neighborhood. Keep in mind though, that they may not be ready to invite you inside quite yet to share them! If they're still getting settled in and not quite ready for company, graciously offer them a welcome treat along with a short, friendly conversation outside. There will be plenty of time to catch up once they're all moved in.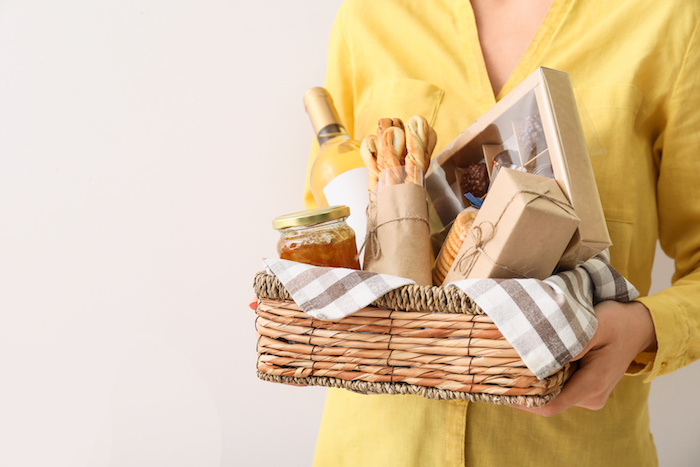 4) Prepare a Welcome Basket
Sweets are a great idea, but let's be honest, you never know who can eat them! Food-related allergies and illnesses are very real. You can always go a safer route by preparing a welcome basket with flowers, coupons, or a gift card to a local restaurant or shop. They'll appreciate the gesture and won't feel bad if they can't eat the treats you brought!
5) Leave a Note
For the introverts among us, a card is an easy way to show kindness and say hello without awkwardly knocking on their door. Drop a handwritten note or even a store-bought card in the mailbox that says "Hi, we're glad you're here, let us know if you need anything!" Then, once you start to see your neighbor out and about it'll be easier to engage in a more natural conversation.
6) Invite Them Over
When it feels like the time is right, and if your neighbors are up for it, invite them over! It could be a cookout, cocktails, or a dinner party. To keep things from feeling forced, be sure to invite a couple of other friends, too. This will help your new neighbors feel like they're part of a community, and help them get to know even more people.
7) Exchange Phone Numbers
It's always nice to have the contact info for your neighbors in case of anything. Whether it's to keep an eye on the house, check the mail, or just answer questions about life in a Cornerstone community, a phone number will help new neighbors feel like they're not so alone when they first move in.
8) Share Useful Information
If your community has a neighborhood watch, upcoming social events, local clubs, or interest groups, be sure to let your new neighbor know! This kind of information may not be published in a central place, so it can be very helpful for you to be a resource. You can also share a neighborhood directory, utility info, trash and recycling info, and anything else that might be helpful or little known.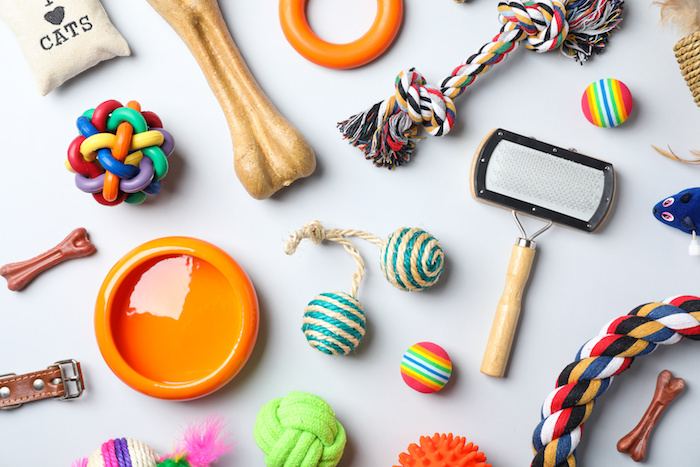 9) Prepare a Goodie Bag for Their Pet
Moving can be stressful on pets, too, and owners almost always want to make the transition as easy as possible. Prepare a goodie bag with toys and treats for the family cat or dog. Your neighbors will appreciate your out-of-the-box thoughtfulness, and you may just make a new fur friend!
10) Respect Their Privacy
When it comes down to it, it can take a while for some people to get settled in, feel comfortable, and be ready to make new acquaintances. If your new neighbors seem a bit standoffish, they may just be getting acclimated. Particularly if they are right-sizing, moving to a new house in a new neighborhood may feel overwhelming. Show kindness but give them some time and space and respect their privacy. Before long, you'll be waving hello and discussing the latest happenings in the community!
Living in a Cornerstone Homes community you will find a very active social life and many clubs and functions available to meet your neighbors. Our walker-friendly lifestyle makes it easy to stay active and see your neighbors whether it's an evening stroll on the sidewalks, or a jog or jaunt on a trial with your four-legged friend, we make sure you can stay connected with your neighbors. This is the time of your life and Cornerstone Homes makes sure you are living your best life.